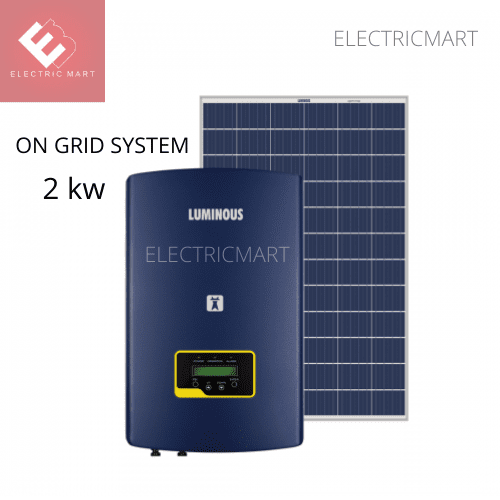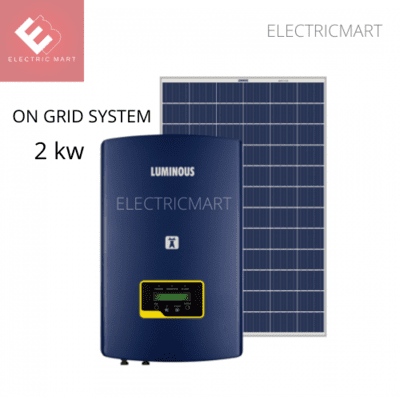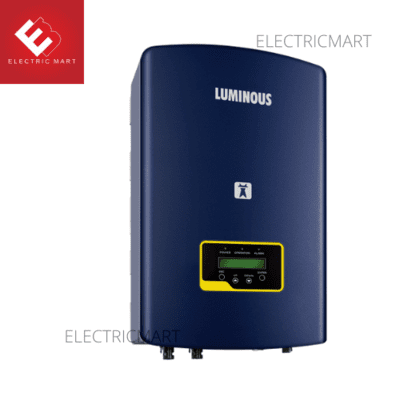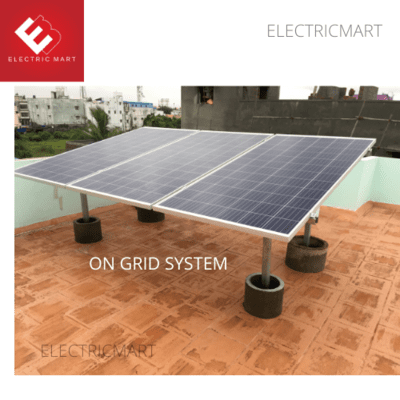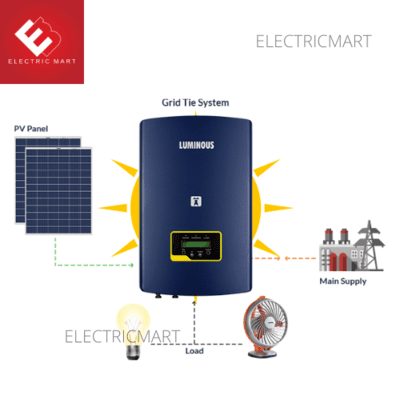 2 KW ON GRID SYSTEM - MONO PERC PANELS
Rs.120,000.00
Rs.150,000.00
LUMINOUS 2KW ON GRID SYSTEM
Luminous grid-tie systems are reliable, safe and efficient solutions to use solar power to run your loads and feed excess power directly to the grid, thereby reducing your electrical bills or diesel consumption.
2 kW solar system generates approx

8

to 10 units

every day from morning 9 am to 5 pm which is sufficient to run air conditioner up to 1.5 ton along with Refrigerator(1), Television(1), Fans(3) and lights(6) during the day for small 2-3 bhk home.
Investment in off grid solar systems definitely leads you to great savings, while protecting the environment. We have given below all technical details, features, types and latest price about 2kW solar system.
It consists of Polly crystalline panels and comes with more than 96% solar inverter efficiency and over 16% module efficiency. UTL 2kW solar system needs 200 square feet of space to install.
Note

: It does not work when there is a power failure.

PANEL

LUM 445WP /24V - 04 NOS (2KW)

ON GRID SOLAR
INVERTER
2 KW, SINGLE PHASE INVERTER, SINGLE MPPT & Wi-F(OPTIONAL*) -

01 NOS

PANEL WARRANTY*

25 Years (12+13YEARS )

INVERTER WARRANTY**

7 Years

SPACE REQUIRED

200 Sq.ft

BOS

DCDB,ACDB ,Panel Stand , Connecting Cables, Earthing kit ,etc
PANEL FEATURES : 12 YEARS WARRANTY
Advanced EVA encapsulation to give better protection to modules
Best in Class conversion efficiency
Anti reflective coating for more light absorption
High strength Aluminium frame design to offer high torsion resistance
Compliance to IEC standards
INVERTER FEATURES - 7 YEARS WARRANTY
97.5% Max. efficiency

Wide voltage range and low start-up voltage

Super high frequency switching technology

Precise MPPT algorithm

Compact and lightweight

WiFi/GPRS Real time monitoring

Safe for your home with comprehensive protection features such as short-circuit, reverse polarity, anti-islanding, residual current detection

Inbuilt MPPT charge controller extracts upto 30% more power from Panels

User friendly Informative LCD Display

We offer all types of custom solutions based on your requirements. Request a site survey to get your roof assessed by our solar experts.
Sales Support

: 9444733147 for Customized Installation.
INSTALLATION TEAM AVAILABLE IN : CHENNAI , PONDICHERRY , VELLORE , CUDDALORE , MADURAI ,COIMBATORE , THIRUNELVELI , THOOTHUKUDI, KANYAKUMARI.